MULTI ENGINE CLASS RATING
A multi engine endorsement also referred to as a multi engine class rating is designed to train pilots in the operation of an aircraft with more than one engine.
The most common aircraft for getting a twin engine endorsement is the Piper Seminole PA- 44.
WHAT IS REQUIRED FOR A MULTI ENGINE RATING?
As a minimum, you must have completed your private pilot licence before you can complete the multi engine aeroplane endorsement.
Some pilots choose to do a constant speed unit CSU endorsement on a single engine aircraft like the Cessna 182 before transitioning to a twin where they complete the retractable gear endorsement.
There is no requirement to train in a higher performance single before completing your multi engine training.
PRE STUDY MATERIAL – MECR
Understanding the normal, abnormal and emergency procedures applicable to your aircraft is fundamental in completing your multi rating.
Along with the systems and performance characteristics stipulated in the Aircraft Flight Manual & Pilots Operating Handbook (POH).
Completing your multi engine endorsement paper is the first step before the practical flying component.
Having completed what is also known in the aviation industry as an engineering paper, the practical component begins.
MULTI ENGINE CLASS RATING COURSE
LESSON 1 (MECR)
GENERAL HANDLING AND CIRCUITS –
Your flight instructor will have an in depth discussion about your engineering paper and the twin engine syllabus.
Concluding the theory session you will go out to the aircraft where you will be shown the ins and outs of your training aircraft.
An overview of what you can expect.
Aeroplane familiarisation, preparation for flight and general handling sequences and circuits.
Retractable undercarriage system
Stalling
Basic Instrument flight
Considerations and procedures for take off, circuit, approach and landing (including missed landing, missed approach)
Aeroplane navigation and operating systems, general handling, normal and abnormal operations
General aeroplane data (category, limitations, fuel and oil)
Controls and systems
Operating airspeeds and limitations
Pre-flight actions
Use of checklists
Taxiing
Take-off and after take-off checks
Synchronisation
Straight and level – normal cruise, range and endurance
Climbing and descending
Turning (level, climbing and descending)
Slow flight
Inflight emergencies (other than engine fire/failure)
LESSON 2 (MECR)
ASYMMETRIC HANDLING AND INTRO TO ASYMETRIC CIRCUITS –
The theory looks at the severity of Yaw, effectiveness of rudder and the single engine performance of your aircraft.
In flight we will look at the failure of one of the engines and look at how to identify and rectify.
Asymmetric Flight, Critical and Safety Speeds
Review asymmetric flight- the basic problem

recognition
control
performance

Factors affecting control, VMCA
Factors affecting performance, VYSE
Engine failure checklist procedures
Diversion, radio communications, passenger management considerations
Method to be used for simulation of engine failure
Pre take-off safety briefing
Review of critical airspeeds
Review engine failure recognition, control and performance
Factors affecting single engine climb performance
Take-off and initial climb considerations
Asymmetric missed approach
Asymmetric committal height considerations
Factors affecting decision speed/height
LESSON 3 (MECR)
ASYMETRIC CIRCUITS –
Engine failure's coming from everywhere. Here 's what to expect.
Engine failure after take-off
Engine failure in the circuit
Asymmetric circuit and approach considerations
Engine failure during approach
Asymmetric go around/missed approach
LESSON 4 (MECR)
CONSOLIDATION –
Consolidating the previous training in preparation for your flight test. This is what you can expect to review.
Contents of the flight manual and pilot operating handbook for the aircraft being flown
Flight test knowledge requirements:

the privileges and limitations of the class rating
flight review requirements
navigation and operating systems
normal, abnormal and emergency flight procedures
operating limitations
weight and balance limitations
aircraft performance data, including take-off and landing performance data
flight planning
Assessment of  flight test knowledge requirements for issue of the multi engine rating.
LESSON 5 (MECR)
Flight Test and issue of the MULTI ENGINE CLASS RATING.
TWIN ENGINE ENDORSEMENT MELBOURNE
Essendon Airport in Melbourne has been our home for over 40 years.
Its location in class C airspace and close proximity to Melbourne International Airport exposes you to the airline and corporate jet environment.
We offer a variety of aircraft to conduct multi engine training in.
You can choose from a basic trainer for the initial rating or for those more experienced a twin engine high performance endorsement.
MULTI ENGINE FLIGHT INSTRUCTORS
With instructor's focused solely on multi engine and Instrument Flight Rules (IFR), take advantage of their experience and knowledge.
Let them guide you to achieve your aviation goals.
MULTI ENGINE RATING COURSE DURATION
8.3 Hours DUAL
For students considering a FULL TIME course we recommend a 1-2 week time frame.
For students considering a PART TIME course we recommend a 3 – 4 week time frame.
From experience most students have conducted this training within 2 weeks and full time.
Course duration can be extended due to learning ability, weather and frequency of lessons.
MULTI ENGINE ENDORSEMENT COST
The costs are based on what we have seen as an average trend from past students.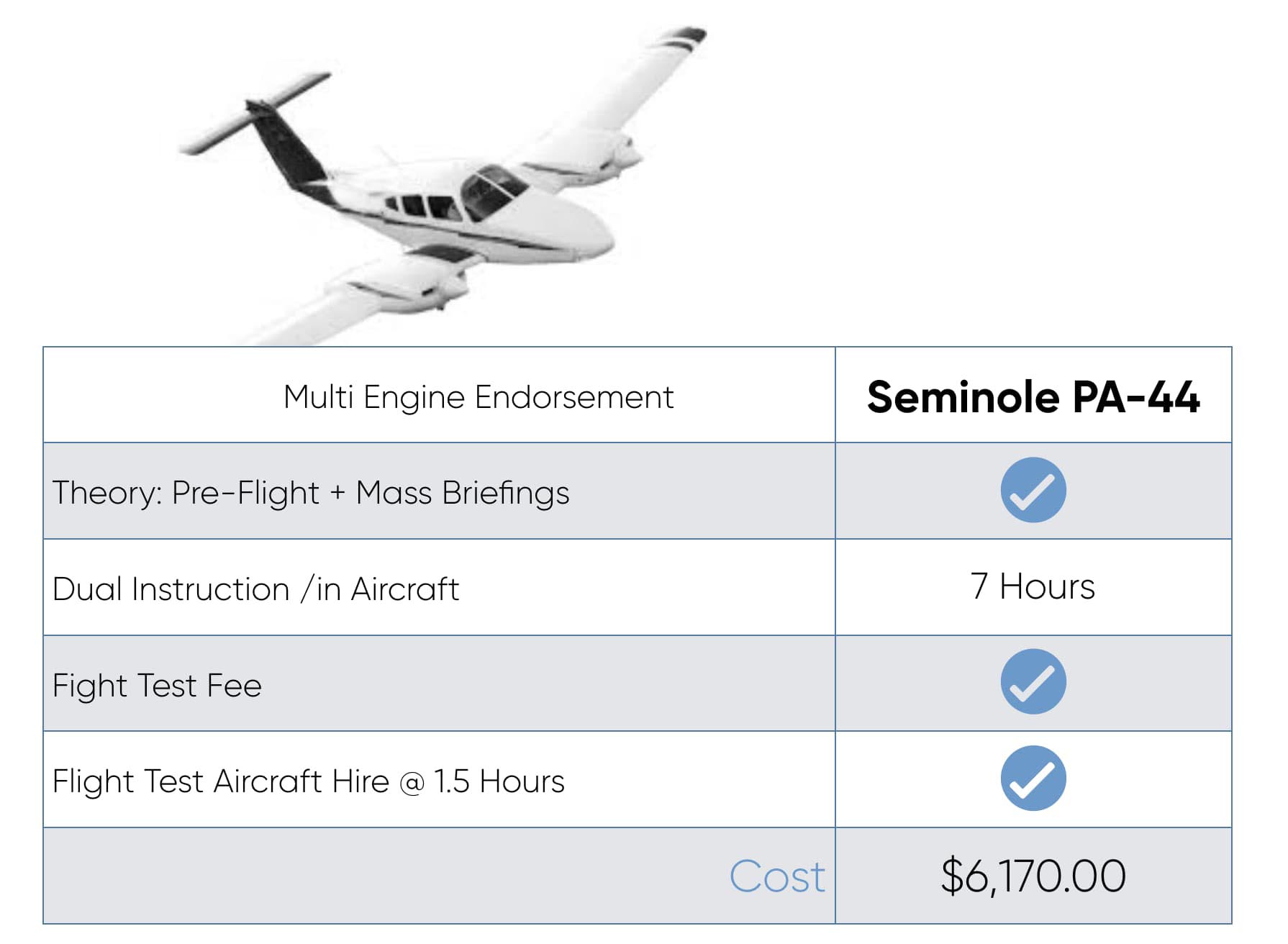 If we haven't answered your questions then please get in touch for more information.
.
More Information