BARNBOUGLE GOLF COURSE
The Barnbougle golf course (The Dunes) and its sister course Lost Farm have been highly ranked not just in Australia but around the world.
Attracting golfers from all parts of the globe these meticulously maintained courses will not disappoint.
Barnbougle golf resort comprises of a 18 hole course while the sister course Lost Farm plays 20.
The courses have been sculptured to fit in naturally into the coastal environment.
WHERE IS BARNBOUGLE GOLF COURSE
Barnbougle Golf Resort is located 5 km from Bridport on Tasmania's North Eastern coast.
Launceston, Tasmania's second biggest city is only a one hour drive and Launceston airport is a one & half hour trip.

BARNBOUGLE AIRPORT
Situated less than one km from Barnbougle Lost Farm Resort is the Barnbougle Airport.
Flight time from Essendon Airport (Melbourne) to Barnbougle airport is one hour.
BARNBOUGLE GOLF PACKAGES
Golf packages listed are for groups of 8 in our King Air .
For groups of 4 we use our Piper Navajo. Please get in touch for costs for groups of 4.
BARNBOUGLE GOLF PACKAGE 
DAY TRIP BARNBOUGLE or LOST FARM
Perfect for everyday golfers looking to tick the Barnbougle golf bucket list.
The Barnbougle Golf package is a day trip that will have you departing Essendon Airport in our Super King Air and arriving at Barnbougle one hour later where your shuttle awaits.
You decide whether you want to play Lost Farm or the Barnbougle Dunes.
On completion of your round of golf its time to relax at the lost farm sports bar before returning home.
BARNBOUGLE STAY AND PLAY PACKAGES
Ideal for group get aways our Barnbougle stay and play packages vary on the accommodation selected and number of nights away.
For golfing couples and a more tailored itinerary please get in touch.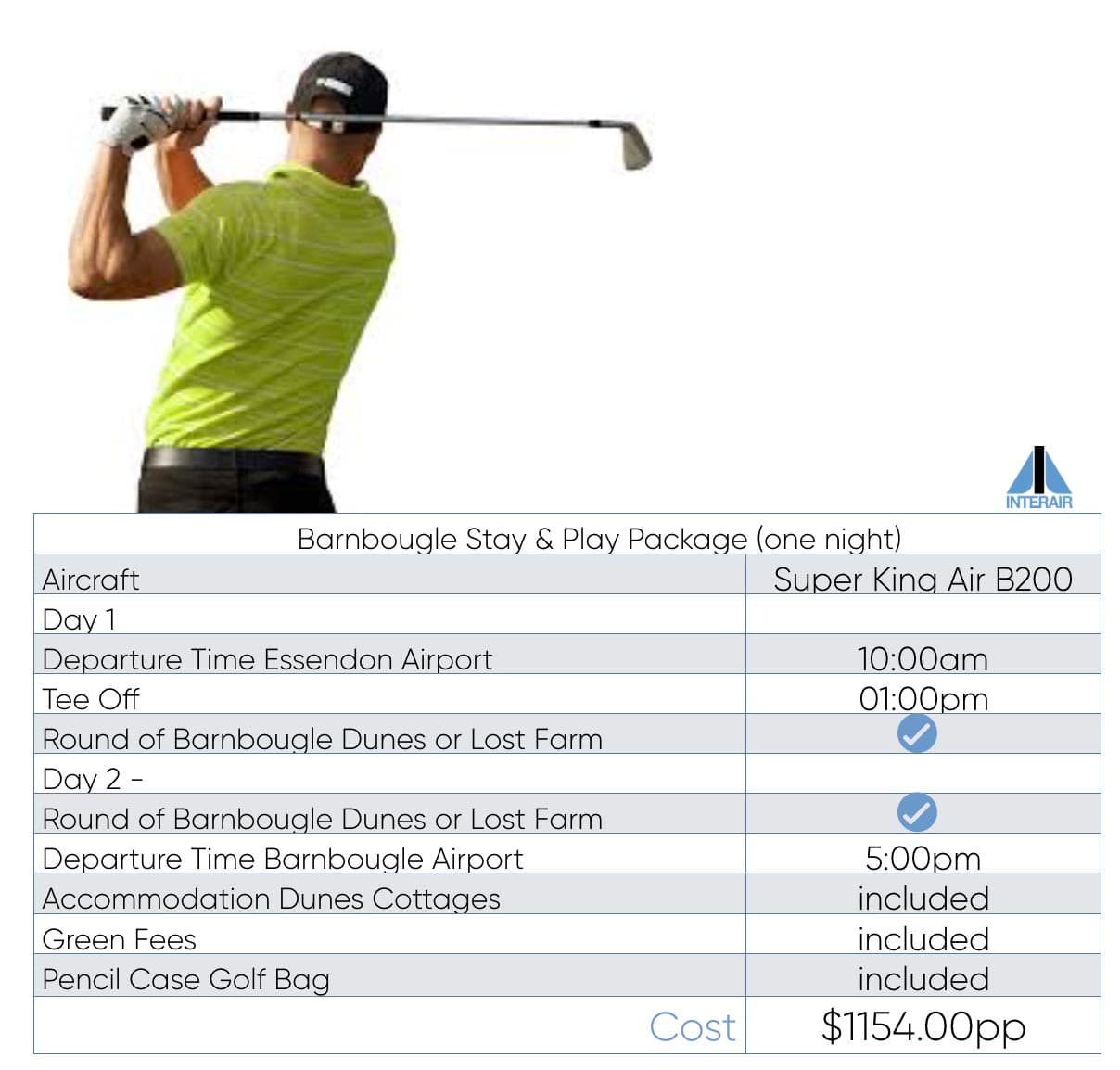 BARNBOUGLE GOLF COURSE RANKING
Barnbougle Dunes (18 holes) = Australia Rank = 2, World Rank  = 33
Barnbougle Lost Farm (20 holes) = Australia Rank = 3, World Rank  = 66
BARNBOUGLE GREEN FEES
Barnbougle Dunes – 18 Holes (RATES; 1 OCT 20 – 30 – APR 21)  $129.00 inc GST
Barnbougle Lost Farm – 20 Holes (RATES; 1 OCT 20 – 30 – APR 21) $129.00 inc GST
Green fees are included in all packages.
BARNBOUGLE GOLF RESORT DRESS CODE
The dress code for Barnbougle is smart casual including a collard shirt.
Jeans are acceptable but they must have no rips.
Shoes must fully enclose the foot i.e. sport shoe or golf shoes and no thongs or work boots.
No hoodie jumpers are allowed.
BARNBOUGLE ACCOMMODATION
The following accommodation is available at Barnbougle Golf resort
3.5 star Dunes Cottages located at the Dunes course
4.5 star Ocean Villa (2 bed) + Bunker Villa (4 bed) also located at the Dunes course
4.5 star Lost Farm Lodge with both course and ocean view
Accommodation is included in our golf packages for Barnbougle and Lost Farm.
RESTAURANT BARNBOUGLE 
The food selected by the chefs at the golfing resort is locally sourced Tasmanian produce.
With its amazing variety of wines, cheeses and fresh fish and meat produce the menu will not disappoint.
You can select from the Dunes Clubhouse, Lost Farm Sports Bar and the Lost Farm restaurant.
We recommend you make a reservation for the Lost Farm Restaurant prior to arrival to avoid disappointment.
BARNBOUGLE SPA PERFECT FOR GOLFING COUPLES
Golf couples looking for the perfect retreat will love the spa treatments on offer at Barnbougle.
With amazing ocean views and numerous treatments available why not relax, unwind and treat yourself after a day of golf.
Reinvigorate your body and mind with their spa treatments and wellness packages.
For more information on our Barnbougle packages or help creating a golf tour to suit please get in touch.
More Information