NIGHT VFR 
A night VFR rating allows you to operate as pilot in command beyond the end of daylight.
Completion of the night VFR rating allows you to fly at night anywhere in Australia.
For many pilots learning to fly who have completed their Private Licence this is the next step.
BENEFITS OF THE NIGHT RATING
The night rating gives you the flexibility of planning extended trips that might not be completed in daylight.  Say due to winter therefore shorter days of daylight.
Flying at night also tends to be more smoother with less air traffic to deal with.
Another benefit is building your night time hours (experience).  Many career minded pilots focusing on the airlines find night hours a big obstacle when applying for a flying position.  Most airlines will require 100 hrs as a minimum.
If you are considering flying for a career then we would suggest you complete a night rating.
Build as much night command time as possible at the school you choose to fly.
NIGHT VFR RATING COURSE (NVFR)
Here is an outline of the Night Rating Syllabus.
LESSON 1 (NVFR)
Basic Instrument Flight – looking at the basics of instrument flight we will conduct some manoeuvres using full & limited panel.  You will also be required to recover from unusual attitudes.
With a limited instrument panel you will be required to operate without reference to some key instruments (AI – Attitude Indicator, HI -Heading Indicator, ASI – Airspeed Indicator).
Navigation Aid Training – we will look at certain navigation aids we can utilize in the aircraft and refresh our studies on their individual errors and limitations followed by checks to ensure the aids integrity.
All this is completed in our synthetic trainer.
LESSON 2 (NVFR)
We put all the practice from LESSON 1 in the simulator to test in a real aircraft.
In this lesson we will depart day VFR and complete our Basic Instrument Flight exercises and navigation aid training.
LESSON 3 (NVFR)
Circuits – In this night flying lesson we revisit normal circuits and look at some new techniques required for night landings.
judgement of round out height
landing lights failure (aircraft)
landing with no flaps
internal light failure
Sensory illusions
Pilot activated lighting (PAL)
LESSON 4 (NVFR)
Circuits – The night training and circuits continue.
During this night training flight we will consolidate your previous circuits training and assess your knowledge for first solo at night.
LESSON 5 (NVFR)
Circuits – You are required to complete 1 hr of SOLO, your flight instructor will of ensure you are competent. Enjoy.
LESSON 6 (NVFR)
Navigation Exercise 1
Having learnt to navigate by day as a Private Pilot we now look at calculating a lower safe altitude LSALT to our night navigational tracks.
When learning to fly at night we also need to consider –
Weather
Aerodrome lighting and navigation aid requirements
Flight Plan preparation
Alternates
Black hole effect
LESSON 7 (NVFR)
Navigation Exercise 2
In this night flying lesson we look at some more unusual attitudes and revise our instrument flying technique.
We will also conduct a diversion and simulate inadvertent entry into IMC.
NVFR AERONAUTICAL KNOWLEDGE Examination
LESSON 8 (NVFR)
Navigation Exercise 3 – Pre licence – we  assess all the required criteria in preparation for the flight test.
NVFR  Flight Test
NIGHT FLYING LESSONS IN MELBOURNE
Nearly 20 years of flying lessons in Melbourne for our flight training team.  We'd have to check the logbooks but a bit of it has been done at night.
Melbourne's Essendon Airport is a great location for night training. With its location close to Melbourne International and class Charlie airspace.
An amazing place to fly at night.
Departing Essendon the lights of suburbia will amaze you and when departing it the world around you goes black.
Your scan is vital, this is what you have trained for.
FLYING INSTRUCTORS
A Melbourne flying school fortunate to have flying instructors who are passionate about flight training.
Your night training will be completed with one of our experienced instructors who will have many night flying training under their belt.
They will discuss your training plan to suit your schedule and ensure regular training to complete your rating.
NIGHT RATING COURSE DURATION
10 Hours Dual
1 Hour Simulator
1 Hour Solo
FULL TIME – Night training is achievable in  2-3 weeks and you will be at the airport 4-5 days a week
PART TIME – Night training is achievable in 4 -6 weeks and will be required to complete 1 -2 lessons a week.
NIGHT VFR RATING COURSE COST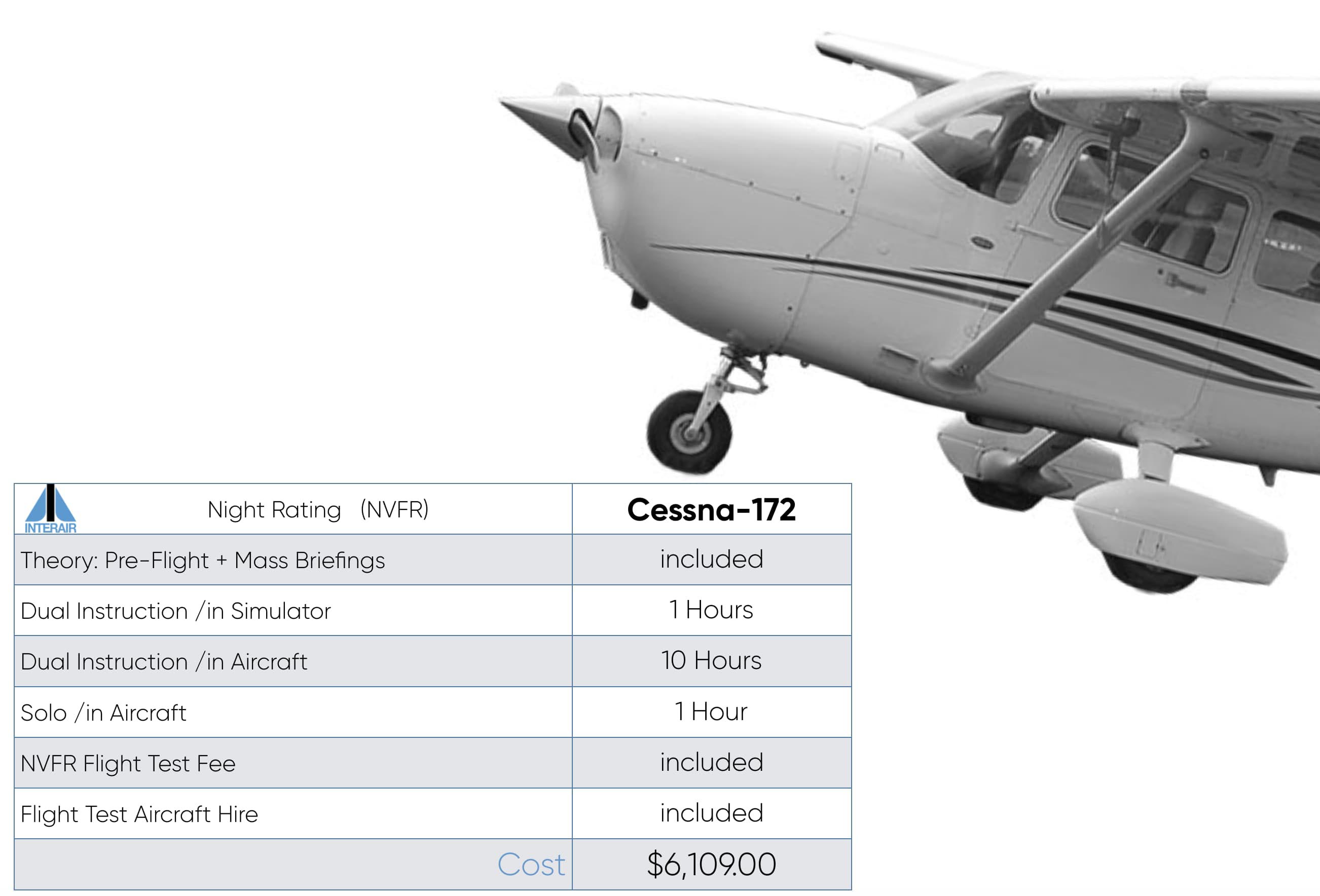 More Information